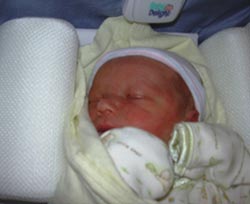 My friend just had a baby. And she did it in under 5 hours from first contractions to the end. And she did it at home naturally.
This is her letter and experience of what happened.
The day has finally arrived! We had a beautiful baby boy born at home last night, October 3rd, at 9:55 p.m. He weighed in at 6 pounds 13 ounces and 21 inches long. His tentative name is Kristopher. We're going to try it out for a few days and see whether it fits! He was born after a fast a furious labor beginning at 5 p.m. that day. I was actually at the office adjusting patients when the labor started. There are a few of you on this list who can say that they were with me at the beginning of my labor! I continued my office hours till 7p.m., thinking I was just having Braxton Hicks contractions causing me to drop more. Boy was I wrong! As soon as my hours ended at 7 p.m. I began active labor in the exam room. My mom picked me up from the office and drove me home. Then Dr. Kathy, who I practice with, came over when she was done with office hours for the evening. Thank God she was there, having had 5 home births! We really didn't even have time to make phone calls because everything was happening so quickly. It took the midwife a while to get there and my husband was in Cleveland, 2 hours away. Everyone initially was trying to wait and see if this was REALL Y it before making all the moves for a first, typically long labor.
Well active labor lasted from about 7p.m. to 9:30, then transition 9:30 -9:45. My husband got in by 8:30 and our midwife and doula came by about 9:30 , mainly because there was no time to make phone calls. At that point, I knew I was ready to push. I was just about to say, 'Kathy, you're going to have to catch this baby' when Ellen, and Teresa, our doula, walked in. Ellen checked me and I was 10 cm dilated and ready to go. I pushed 3 times and out came a beautiful baby...and when she said, ' You've got yourself a boy!' I almost fell over. Thought I was having a girl the whole time!! So wow!!! I think I was in a total state of shock after he was born because everything moved SOOOO quickly and intensely. I couldn't believe that just happened to me! 4 hours and 55 minutes from start to finish!!! Everyone left around 2pm and our doula spent the night to make sure everything went well with nursing and to give me much needed immediate post-partum help.
He's just wonderful. We've just been sleeping and nursing and changing diapers and falling in love with our new gift from God. He's healthy and everything has turned out just fine! I have included some photos. I hope you are all well! Take care and we hope you'll get to meet him soon!
I forgot to add... the reason I believe my birth was so short and efficient is b/c of what I did to prepare my body. Before I got pregnant, I did a cleanse and stocked up on pre-natal and essential fat supplements. Throughout my pregnancy I got adjusted every week, did pre-natal yoga classes, ate really well, worked out one time per week ( I should have done more but my schedule wouldn't accomodate), took pre-natals, a tablespoon of UDO's Oil Blend in Brown Cow yogurt daily, and loaded up on Mag Glycinate and extra calcium w/ mg during the second half of my pregnancy for muscle contraction/relaxation, bone growth etc. I also did NET before I got pregnant and at the end of my pregnancy to make sure I was clear of any NEC's blocking my ability to give birth efficiently or my wanting to be and having the time to be a mother, etc. This was MY recipe and it really worked. I do believe the oils and doing yoga REALLY helped with cervical dilation during active labor. I also believe that the Mg and Ca, massage and adjustments really helped my uterus be very synchronous. Just wanted to expand on how I went about making this process as efficient as it was. :)
Kathy