Fast Food Beverages Might be Worse Than Toilet Water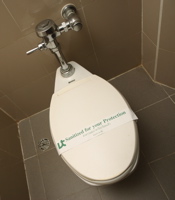 Twelve-year-old middle school student Jasmine Roberts' project won the science fair at her school.
Her results were not what she expected, and have serious implications for everyone.
Her project compared the ice used in the drinks at five fast food restaurants with the water from toilet bowls in the same establishments. Seventy percent of the time, the ice had more bacteria than the toilet water.
In four of the five restaurants, ice from the self-serve machines had more bacteria than toilet water, as did three out of five cups of ice from drive-through windows. Sixty percent of the restaurant ice also tested positive for E. coli, which comes from the feces of animals and can cause serious illness.
While a certain amount of bacteria in water is considered harmless, no amount of E. coli is acceptable, however small.
TBO.com February 13, 2006