New Cocoa Bar Treat Offers
Outstanding Health Benefits And
the Distinct Taste of Dark Chocolate
(Pre-P.S. – The links go to Dr. Mercola's Store – www.mercola.com )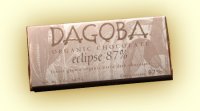 Dagoba Eclipse
Chocolate Bar (2oz. Individual)
| | |
| --- | --- |
| Just $2.75 ea. | |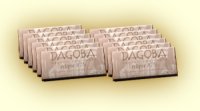 Dagoba Eclipse
Chocolate Bar (12-Pack)
-- Purchase this Beautifully Packaged Box of
12 Dagoba Eclipse Chocolate Bars and
save up to 65% on combined Shipping
and Handling. Offer expires soon.
| | |
| --- | --- |
| Just $33.00 | |
How often do you crave the divine decadence of dark chocolate but feel it's too unhealthy to enjoy? Great news! You probably have read the many studies I have posted the past few years that properly processed chocolate can be a health food.
Ten years of international research, dozens of reviews in scientific journals and millions of dollars have shown that through proper growing, fermenting, roasting and processing, healthy chocolate can be produced.
The Key Is Properly Processing The Chocolate
The chocolate you find in stores will not typically provide you with all the health benefits I have been posting about chocolate in the newsletter. That is because of the way the chocolate (cacao) bean is processed. The high pressures and temperatures destroy the important beneficial bioflavonoids present in the chocolate.
I was really intrigued with the concept that it is actually possible to have a healthy chocolate after I ran an article from the British Medical Journal (December 19, 1998; 317:9-10) that showed that chocolate consumption was actually linked to a longer life.
So for the past few years I have been diligently investigating different types of healthy chocolate that actually also tasted good.
Finally, a Palate-Pleaser Chocolate Bar that is Actually Good for You
After searching on an off for the past seven years I have found a winning chocolate bar for you.
Dagoba chocolate offers one of the highest concentrations available of healthy bioflavonoids, and more important the Dagoba bars have relatively low sugar levels ? Low enough to not cause health problems when used in moderation while still masking the strong bitter taste of raw chocolate.
Don't just listen to me, though, as renowned chocolate lovers seem to agree. Dagoba was named the "World's Best Chocolate" by CNN/Money and "Best Dark Chocolate" by the San Francisco Chronicle.
All dark chocolate bars aren't created equally. Premium Dagoba bars yield only 4 grams of sugar while Hershey's "Healthy" Special Dark Chocolate tips the scales at 21 grams -- more than 5 times as much sugar than Dagoba!
| | | |
| --- | --- | --- |
| | An Excellent Snack with a Wide Range of Health Benefits | |
Now, I know some of you are going to be saying that I have been preaching that sugar is not good for you at all. For most people that is technically correct. If you suffer with diabetes, high blood pressure, diabetes or high cholesterol this clearly is not your ideal snack.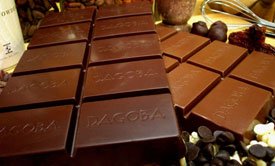 Interestingly, there was a study published in my favorite journal, American Journal of Clinical Nutrition (March of 2005 (81(3):611-4.)), that showed that insulin sensitivity actually increased after individuals ate chocolate and they had reduced blood pressure. The researchers thought that this was due to increased nitric oxide availability.
Another study in Free Radical Biology Medicine (November 2004 (1;37(9):1351-9)) actually increased HDL (good cholesterol) concentrations and reduced the oxidation of the total cholesterol.
These are just a few of the many convincing studies done which support a strong benefit of properly processed chocolate which may actually benefit those even with insulin sensitivity issues. We really don't know for sure as all the evidence isn't in, but one can certainly make a strong argument that these bars (in moderation of course) may even be good for those with high blood pressure, high cholesterol or diabetes.
But if you are healthy or if you need an occasional snack, it is my opinion that the healthy antioxidant bioflavanoids present in the Dagoba chocolate outweigh the negative side effects of the relatively small amount of sugar.
| | | |
| --- | --- | --- |
| | Loaded with Antioxidants and Other Key Nutrients | |
The cacao beans from which the chocolate is produced are high in antioxidants (phenolic bioflavanoids) - these gobble up free radicals, the destructive molecules implicated in heart disease and other ailments.
Ounce per ounce, chocolate has more antioxidants than fruits, vegetables, tea and wine. In fact, 1.5 ounces of dark chocolate packs as many antioxidants as five ounces of red wine.
The Healthy Components of Chocolate?

| | |
| --- | --- |
| | Bioflavanoids |
| | Epicatechin |
| | Catechin |
| | Pprocyanidins |

Other Cacao Healthy Attributes?

| | |
| --- | --- |
| | Rich in B1, B2 and D vitamins, magnesium and iron |
| | Proven vasodilator, increasing exercise stamina |
| | May block oxidation of LDL cholestero |
| | Contains phenylthylamine, which reduces depression and stimulates euphoria |
| | Boosts serotonin levels, which may help alleviate premenstrual syndrome |
| | Listed with the European Board of Health as a pre-digestive aid |
| | Yields the same caffeine content as a cup of decaffeinated coffee |
Also Try the Dagoba "Xocolatl" Bar With a Delicious Hint of Chile Spice
Xocolatl is the interpretation of the original chocolate drink of the Aztec royalty created to honor the original cultivators of cacao - the food of the gods. The new Xocolatl Bar is dark chocolate with a slightly sweeter flavor than the extra dark chocolate Eclipse Bar. The Xocolatl Bar is distinguished by its unique and delicate spicy taste from rare organic chilies.
Xocolatl (pronounced chocolate) offers many of the same health giving ingredients you'll find in the Eclipse Chocolate Bar. However, when compared to the Eclipse bar, you should know Xocolatl has:
A slightly lower cacao content at 74% (Eclipse contains 87%)
Higher sugar content with 7 grams of sugar (Eclipse contains 4 grams)
But made with Dagoba's finest varietal cacao, Xocolatl is accented with rare organic chilies, organic cacao nibs, organic maca, organic nutmeg and vanilla to bring the birth of chocolate to life. If you enjoy the rich flavor of the Eclipse bar and you like a little spice, you will find the exquisite taste of Xocolatl equally or even more appealing!
Like the Eclipse bar, the Xocolatl bar offers one of the highest concentrations available of healthy antioxidant bioflavonoids. However, because of its higher sugar content, if you suffer with diabetes, high blood pressure, or high cholesterol, Xocolatl is not for you.
But if you are healthy and maintain a proper diet, the strong antioxidant bioflavanoids present in the Xocolatl chocolate bar coupled with the health promoting properties of its distinctive organic spices outweigh the negative side effects of the sugar - but only if enjoyed occasionally.
And despite its 7 grams of sugar, the Xocolatl Dark Chocolate Bar is still a healthier alternative to most "so-called" healthy commercial chocolate bars that weigh in with at least 1/3rd or more grams of sugar!
If You Like a Bit of Spice, Read More About the
(Very) Delicious Dagoba Xocolatl Bar Now
| | | |
| --- | --- | --- |
| | Dagoba's Commitment to Quality | |
You probably wonder what the heck "Dagoba" actually means. I had never heard of it either before I discovered this bar, and even had trouble pronouncing the word (it is kind of a tongue-twister? say it three times fast!)
Apparently, Dagoba is a Sanskrit word meaning "a temple of the gods." Like ancient cultures, this family-owned and family-operated business reveres chocolate as a sacred food and treats it as such.
The company was founded in 2001 by Frederick Schilling in his own kitchen. Since the start, Dagoba has always been made with organic ingredients. Now, Schilling works with his father, creating their small batches of high quality chocolates out of a facility in the stunning Rogue River Valley of southern Oregon.
If you have any interest in the environment you will be pleased to know that this small ecologically-minded company is run entirely on renewable energy.
| | | |
| --- | --- | --- |
| | These are ORGANIC Chocolate Bars | |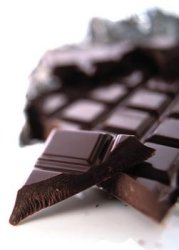 I can hear many of you now, pointing out the apparent oxymoron. "It doesn't matter if it is organic if it is sugar" -- but as I mentioned earlier these have 5 times less sugar than typical "healthy" chocolate bars and they have enormously beneficial antioxidant qualities.
And, these chocolate bars are indeed certified organic by International Certification Services. In fact:
Not only are the cocoa chocolate beans organic, but the unrefined cane sugar used for sweetener and the essential oils, fruits and nuts are used are also all organic.
No chemical pesticides or fertilizers are used, and organic cacao beans are never mixed with non-organic beans.
Dagoba bars contain NO fillers like vegetable oil
No GMO or irradiated ingredients of any sort are used in these bars
All products are also Kosher and are Fair Trade Certified™
| | | |
| --- | --- | --- |
| | Dagoba Bars are Also Environmentally Friendly | |
Not only does the company that makes these bars use renewable energy sources, they obtain the raw ingredients for the chocolate bars from the natural rainforests of Latin, Central and South America in order to help preserve these fragile environments.