"Has the Secret of Stress Management been
discovered at last?
Dear friend,
I would like to share this amazing story about a young man who found his calling.
23 years ago something happened that changed my life forever.
I got a headache so bad, that my mom had to come pick me up from school. My mom brought me straight to the chiropractor. And within 5 minutes of leaving the chiropractor, my headache was gone.
It was then that I remember saying to myself, I want to be a chiropractor when I grow up.
That is what began my journey to health and wellness. And it was this journey that has allowed me to share with people
The True Secrets of Stress Management – and how they have almost nothing to do with eliminating the stress in your life
"You see I trust heavily in my body's own healing potential, and I knew there had to be something more than drugs for stress. More than the same advice everyone gives, which is to eliminate the stressors in your life. But how do you eliminate your job? Your spouse? Your kids? The stress advice out there is impractical if not impossible to do.
"After I learned these new stress management techniques, I had more energy, less pain and less anxiety."
Stress is manageable, and not with a miracle drug or new surgical procedure your doctor is recommending. S.M."
How is it possible to reduce everyday stress? How simple is this method and why does it work so well?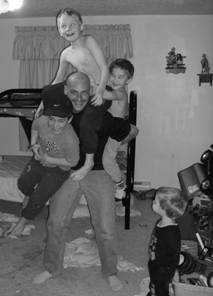 T-G. said, "It's so nice to feel human, I can't believe how wonderful feel, going to the Stress Management Workshop really helped. I refer people all the time."
Let me explain the photo. You know, when I meet people they usually say, "Oh, yeah, I know you, you're Dr. Fettig. I've seen your Stress Workshops or those ads with that picture of you and the four little boys." Well, I'm the tall guy in the middle. That is me with my 4 nephews being stress free.
Millions of people around the world deal with stress and the health problems associated with it. They search for answers, but they are usually temporary.
How can learning to manage stress make that much of a difference in your life?
"By changing one thing, the way I managed stress, a cascade of life altering events followed."
"It's strange how life is, because now people come to me for advice and ideas to better their lives. So, I refer them to the Stress Management Workshop."
Here's what some of the participants had to say:
"I enjoyed the workshop, the ideas for managing stress worked and I will continue to recommend future workshops to friends and family." L. R.
P. K. had this to say, "The stress management workshop was great, the ideas for managing stress helped, I would recommend this workshop to anybody."
You will benefit from these amazing and simple stress management strategies—from a more balanced emotional state to an optimal physical state, your life will change forever.
Dr. Fettig is now offering these Stress Management Workshops to local businesses and organizations.
The strategies Dr. Fettig discusses are perfect for anyone experiencing stress.
Workforce Safety and Insurance said, "You were very relaxed, personable, and fun and know how to deal with stress. 83% of the participants felt the presentation was helpful and interesting including,
'He was very interesting'
'He was easy to follow'
'His examples were great'
I thought it was one of the best presentations I've seen on stress and stress management"
NiSC Said, "It was so refreshing to hear simple solutions to life-long health. Our employees found The Stress Management Workshop especially comforting to learn that this is not an all or nothing approach. –
Dakota Eye Institute said, "We appreciated the message and enjoyed it very much. We recommend the Stress Management Workshop to other organizations as well. –
We come to you and the presentation only takes about 60 minutes.
I have done the Stress Management workshop for 5 people at a volunteer youth facility up to 650 Students at a local college. And looking for more.
You and your employees or group will actually walk away with action steps you can take to easily and successfully eliminate or significantly reduce stress in your life!
Call or email me, Dr. Jamie Fettig, today to schedule a Stress Management Workshop for your business or organization.
--Dr. Jamie Fettig
P.S. If you want you more information you can also call me at ( 720) 279-4585 to get your free stress information pack mailed to you. Then you can decide if you want this workshop at your business.
P.P.S. People love this practical workshop, and it helps reduce stress and improve productivity and moral at the work place. You will see.