Flu Drugs Don't Work and the Natural $13 cure that does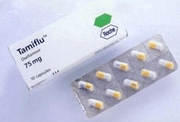 A study indicates that Tamiflu and Relenza, the two antiviral flu drugs intended to be lynchpin of the world-wide defense against the flu, are ineffective against seasonal flu outbreaks, and may not be sufficient to combat an epidemic or pandemic.
The study suggested additional measures such as masks, gowns, gloves, quarantine and hand washing should an epidemic occur.
Tamiflu's maker, Roche, disagreed with the study's findings, and recommended that Tamiflu should still be used even for seasonal influenza.
The flu has increasingly become a concern worldwide as the possibility of an avian flu pandemic has loomed in the public mind.
Vaccines have traditionally been the first line of defense against seasonal flu, but antiviral drugs such as Tamiflu and Relenza have been used with greater and greater frequency.
Their use, however, is potentially problematic; both Tamiflu and Relenza, for example, actually increase viral shedding from the nose, which could worsen a pandemic.
Go Here to find out what you can do Naturally for only $13
Forbes.com January 19, 2006
The Lancet January 19, 2006