Day 1
Laid on the beach in the sun
Day 2
Laid on the beach in the sun
Day 3
Laid on the beach in the sun
Day 4
Laid on the beach in the sun
Day 5
Laid on the beach in the sun
Day 6
Laid on the beach in the sun
Day 7
Laid on the beach in the sun
Ok, I did more than that. But I did not write the detailed account as I went. So it is all from memory now.
Day 1 We (my and the woman I am dating, Sarah) landed in Jamaica Saturday at around 2 pm. We got on the bus and went to the resort. Hedonism 3 in Runaway Bay Jamaica. I won 3 free nights to this resort a while back, and finally got around to using them. Our plan was to spend 3 nights here, then go to a little private resort on Negril beach for 4 nights.
For those who don't know about hedonism, it is a clothing optional resort. Very fun. I am a big fan of my birthday suit.
We got to the resort, walked down to the beach, and got nude. We wanted to go sit in the hot tub. So we walked up to the hot tub. And they were having a contest to see who could eat ice cream off their partner the fastest. So me and Sarah joined in. She was eating the ice cream off me.
This was Sarah's first time at a clothing optional resort, so I give her a lot of credit for how quickly she became comfortable. But since it was all so new to her, she was a little self conscious and we did not win. We almost won the best decorated contest, but then one of the other contestants messed it up.
We then sat in the hot tub for hours. Until Dark. Which there was about 7 pm in Jamaica. It got light out at like 5:45 in the morning. Very Early. We had a few drinks, and went up to the room to get ready for supper.
We met two really great couples while sitting in the hot tub.
The resort is an all inclusive resort. Which means that when you pay for your room, you pay for nothing else. No tips, not food, no drinks, no entertainment, no games, no scuba diving, no nothing.
That night we went to supper, went back up to the room, and we went to bed early. We were both kind of tired after the early flight to Jamaica.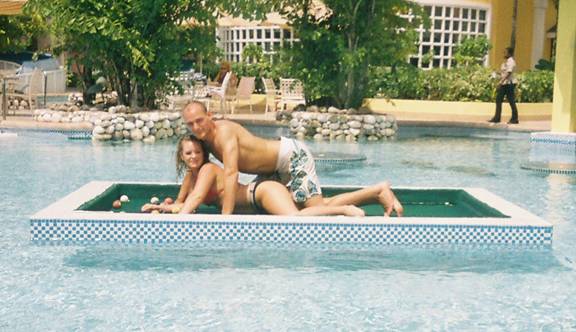 Me and Sarah on the pool table in the middle of the pool.
Day 2
We got up when we got up, and we went down to eat breakfast. After breakfast we went to the hot tub and got nude again.
The days begin to start blurring together here. I think in writing this, I am just going to write what was happening, and not worry about which day it happened.
We went back down for lunch, and after lunch, they had another contest. This was more of just a fun scavenger hunt type thing. And it included getting a pair of guys shorts. So I took mine off (which made me nude) and continued the scavenger hunt. I ended up winning a bottle of Rum for this contest. Even though I don't drink rum. : )
We spent a lot of time in the hot tub and on the beach. So during the times that I do not right about, we were in the hot tub, meeting people, and having fun.
In sights
I had a lot of awesome insights in Jamaica. I will be sharing them as the weeks go by. The biggest was I figured out how to get rid of all guilt in people. It is not like a wave the magical wand and it is all gone for ever thing. But a very simple, clear action step thing, that if you do it, when you make it habit, you will never experience guilt again. I have tried it with a few people already, and it is doing exactly that.
Water Skiing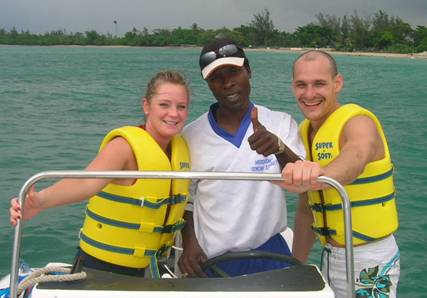 I went water skiing on the ocean for the first time. I have been water skiing many times, just never on the ocean. It was kind of different. The guy driving the boat told me I had three chances to get up on 1 ski. I did it on the first time.
I also did the trapeze.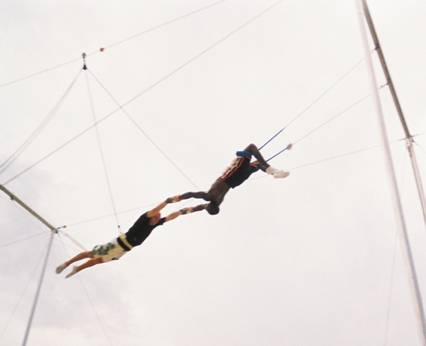 I learned how to do a swing, they caught me, (which is what you see) and then they sent me back to the bar, and I caught it.
I also learned how to swing. Because before you can do a flip and be caught, you have to learn how to get more height, then you can do a flip and be caught. Well, after I learned how to do the swing, I was exhausted, so I saved the flip for another day. Unfortunately, I didn't get another chance to do the trapeze, so maybe next time.
Ganga
In Jamaica, marijuana is illegal, but I actually saw a cop smoking it, and everyone smokes it. I am not going to say whether or not I tried this drug, because it is technically illegal. But I will share some experiences I heard from people who tried it in Jamaica.
For someone who has never smoked anything, but a handful of times, it could happen that they were never taught how to smoke.
So when they smoked, they would blow all their air out, inhale as much smoke as possible, and for some that is 3 times as much lung capacity as the average person, and hold it for as long as possible, which is also longer than most. So the person in my story, got really, really stoned. (this was all discovered after the fact)
Down to the hot tub this person went. And within a few short hours, this person went from experiencing compassion, to guilt, and love, all for the first time. This person got all 3 on an intellectual level, but realized as the experience was happening, this was the first time they had ever had the actual experience as a body sensation before. It was quite weird.

Then some insights started coming. Including how infinity happens as a creating of time, all while nothing is happening at all. I will explain this one in a future newsletter, but trust me, I did not type anything wrong in that sentence. It was quite the insight this person had.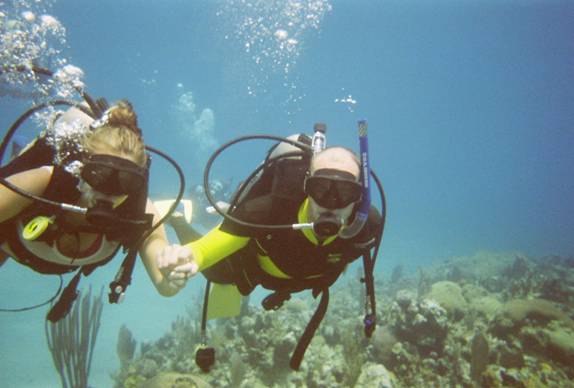 Scuba Diving
I am a certified scuba diver. But Sarah is not. And being Jamaica, they had a 30 minutes course, where they would teach you the basics, and then the dive instructor would take you down and you could go scuba diving. So me and Sarah got to go scuba diving together.
What was most fun for me was watching her. It was her first time really snorkeling or anything in salt water. So she was like a little kid in the candy store. It was so much fun to watch her watch the fish.
Cliff Diving
We also went cliff diving in Jamaica. This was on Sarah's Birthday, Friday.
I am the person at the top of the picture, kind of laying flat out. This was a picture of me doing a swan dive into the water.
The platform was about 11 meters or 37 feet above the surface of the water. Let me tell you, when you hit the water from that height, if you are not going straight in the water, it is not very soft. The water becomes very hard, because you are starting to travel pretty fast.
I also did a flip, a pike dive, and jumped. In reverse order of course.
When I did the flip, I over rotated just a little, and my rib cage hit the water with some forward momentum, and that stung a little bit. But it was all good.
We also ran into Theo Ratcliff from the Boston Celtics. (I believe that was his name) He had three of the most beautiful daughters I have ever seen. When they grow up, they are going to be models, or at least could be for sure.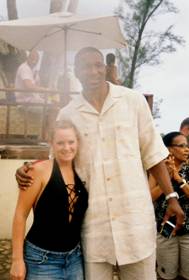 Sea Kayak
We also went Sea kayaking on one of the first few days. It was kind of cloudy that day when we went, but it was still fun. The ocean is like 80 plus degrees, and it is so nice. The over night lows are in the 70's and the daytime highs are 80's and 90's. So nice.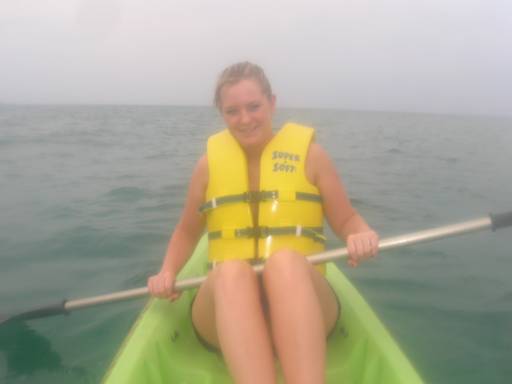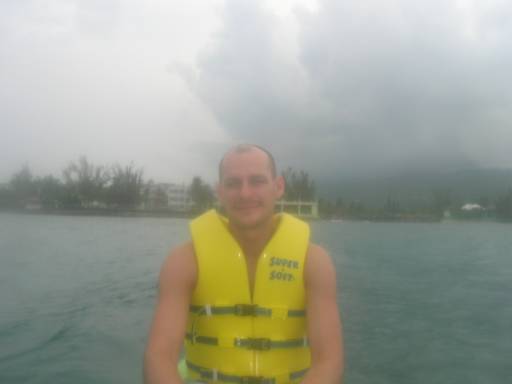 Mushrooms
Mushrooms are another drug that I have heard stories about people trying in Jamaica. So I will share a story I heard about that as well.
For those of you who do not know, mushrooms makes you hallucinate and see things that are not there.
The story goes that a couple was in Jamaica, and it was the girls birthday. So the guy really liked her and wanted to make it all about her. So he did. Everything they did was for her enjoyment.
Neither of them had done mushrooms before.
The woman started having a wonderful experience. Her world shrunk down to a very little window. She could only really see light reflecting off the ocean, a tree that curved over the ocean between the light and water reflection, and the "shooting bats" that kept coming into her field of view as they were flying around the light eating the insects. She called them shooting bats, because she couldn't see outside this world. So when the bats would fly through her world, they looked like they were shooting.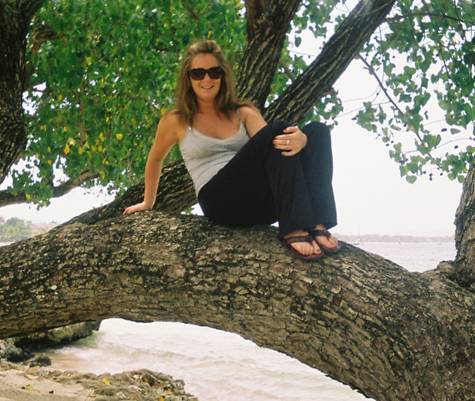 This is a picture of the round thing during the daylight hours the next day.
We then walked down to the dock, and sat on the edge of the dock. And this is where the experience became really cool.
Those two people saw piper fish. They are little snake shaped fish, that just sit still, as long as they are in light. When we cast a shadow over them, they would spend effort to move, until they were in the light again. And when they were in the light, they were just "it".
They were one with the universe, they had no goals or desires. The little fish were just it.
As humans we have so many goals, desires, and outcomes we want in life, we can often spend so much time chasing them, that we forget to be it, and be grateful and praise our creator. We forget to be one with God. These little fish reminded these to people of that in a deep and profound way.
Then 4 sting rays in blue angel flying formation came swimming up towards the end of the dock. These two people had their feet in the water, and the sting rays came within 2 feet of their feet. Just gliding by. There were about 6 stingrays in the area, all about 1 foot across and spotted like a cheetah. They just kept coming by the dock, going away from the dock. Just flying in the water almost like they just were.
Then they saw a giant sting ray, like 3-4 feet across, come from one side of the ocean darkness, about 10 feet from our feet, to the other side of the ocean darkness. It was so cool. Then the little ones would come back.
All the while the pipe fish were just hanging out, being it.
It is kind of funny, because when you are little, you actually play a game to not be it. It is called tag.
Then they saw a jelly fish swim by as well. Like 5 feet from their feet. The woman actually saw one earlier, but wasn't sure what it was and couldn't articulate what it was in the experience she was having.
Then what appeared to be the mother sting ray came flying by. She was like 3 feet across, had a few babies on her wing, and she was cheetah spotted.
As if it couldn't get any better. About 100 feet off the dock, what appeared to be a blue marlin jumped out of the water. It was so cool. It must have been like 3 feet long.
I don't have any pictures of this, but I don't think they would have turned out anyway.
Then Saturday arrived, and we flew home.