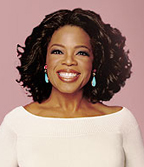 On January 31st The Secret will be on The Oprah
Winfrey Show featuring Rhonda Byrne, creator of the ground-breaking, feature-length movie (and now bestselling book) The Secret. She'll be joined by fellow Secret teachers Dr. Michael Beckwith, James Ray and Lisa Nichols.

Because the show's producers know about all the excitement around The Secret, they're planning on airing the show on the same day. We'll know more next week, and I'll be sure to send you an email alert with a confirmation so you can program your TIVO!

Want to be a guest on Oprah? Have you seen The Secret or read the book?

Has The Secret changed your life? If so, Oprah wants to hear from you. Submit your story to Oprah ONLY if you are willing to appear on national television.